Here at Mid-Island Hyundai, not only are you able to take a close look at our standout lineup of vehicles that provide you with a highly-satisfying drive, but also that they'll be covered thanks to Hyundai Assurance. This provides you with a series of warranty coverages that give you the backing of the manufacturer, and Hyundai service centers like ours here in Centereach, NY. Many people know some details of this coverage, but we're here to give you a detailed explanation of all the coverage options you get under Hyundai Assurance.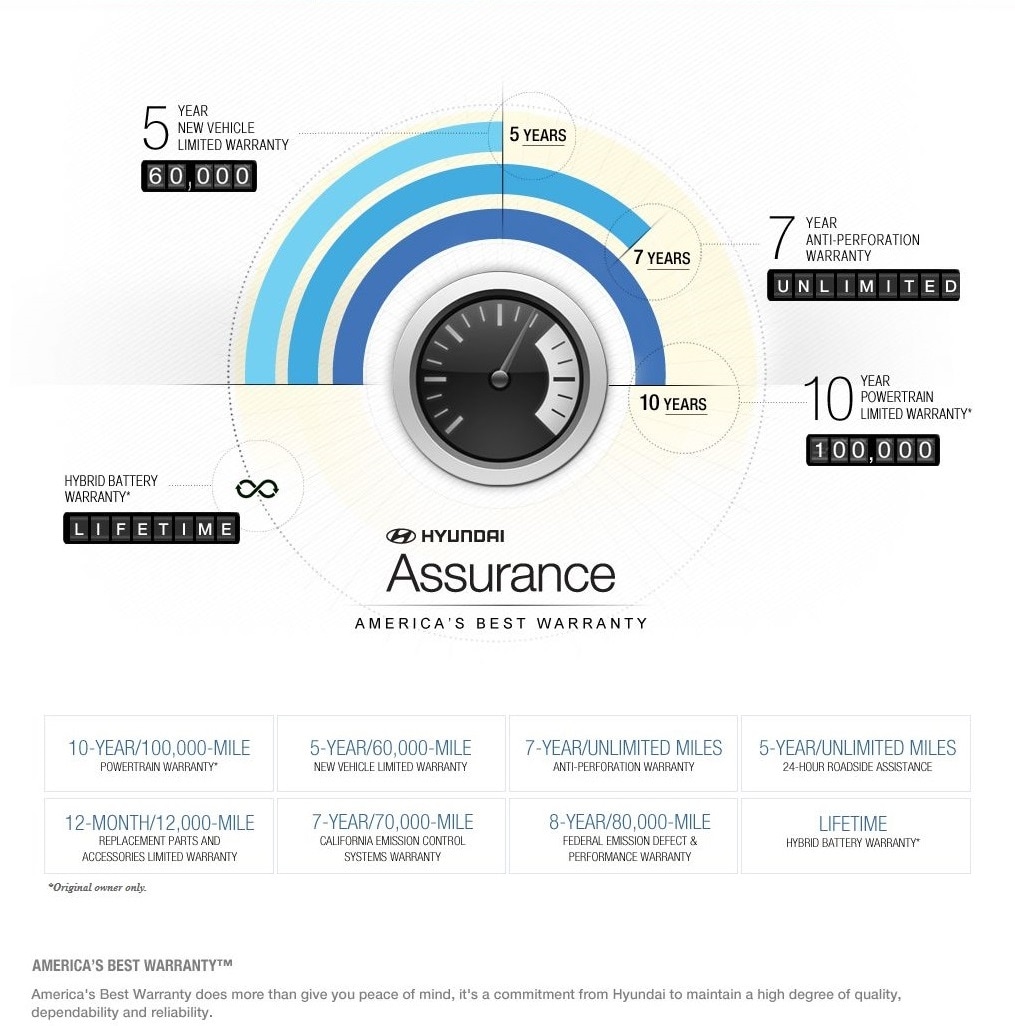 10-Year/100,000-Mile Powertrain Warranty
This warranty covers repair and replacement for the powertrain, meaning selected engine, transmission, and transaxle components that were originally manufactured by Hyundai. That means if any major trouble in those areas happen, you're covered if you have a vehicle in your name, and is a 2004 model year or newer. This type of coverage is not often found on other brands, which gives Hyundai a distinct advantage.
5-Year/60,000-Mile New Vehicle Limited Warranty
This coverage provides you with repair or replacement of any original vehicle component that is defective or needs updating. That includes radio and audio systems, paint, battery, air conditioner, adjustments and other wear. Each of these coverage items range from one to five years of coverage so check with us to see what specific part is covered under which agreement.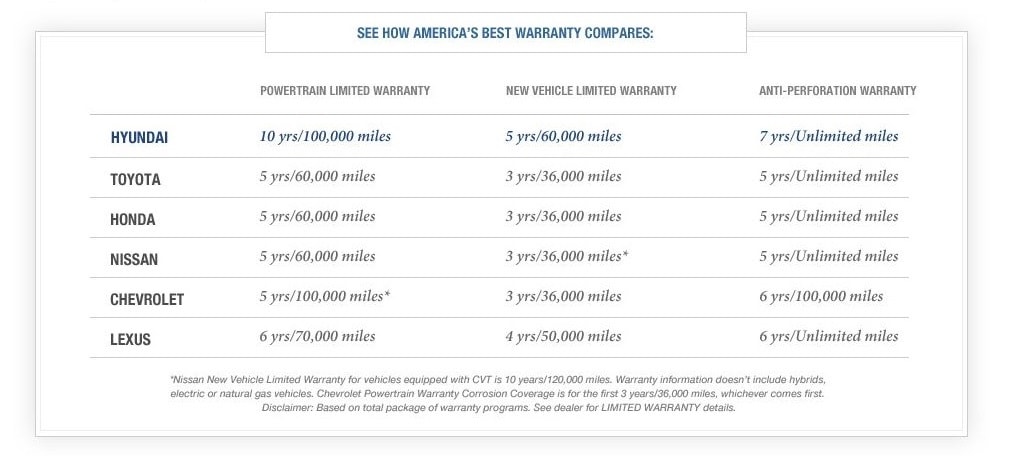 7-Year/Unlimited Miles Anti-Perforation Warranty
If your vehicle encounters any perforation or rust in this warranty's time frame, like a rust hole through the body panel from inside to outside, this plan covers you.
5-Year/Unlimited Miles 24-Hour Roadside Assistance
If you ever get stuck, stranded or need service and aren't near one of our service stations, you can get roadside assistance any time, and any place and Hyundai makes sure you get to the nearest service center for repairs.
12-Month/12,000-Mile Replacement Parts and Accessories Limited Warranty
If you're in need of any parts or accessories for your vehicle that need repair or replacement, this warranty will cover you to ensure your vehicle looks on point.
Lifetime Hybrid Battery Warranty
If you opt for any one of the number of hybrid vehicles here in our Hyundai lineup, you can count on a lifetime warranty for your battery as the original owner. Even if you go the pre-owned route, you're getting a 10-Year/100,000-Mile warranty on a hybrid battery, meaning you're going to get plenty of life out of your eco-friendly ride.